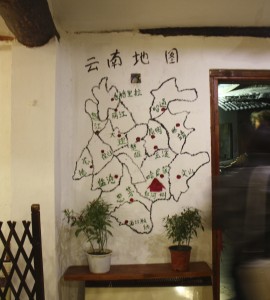 Map of Yunnan province
At the end of a twisting Beijing alleyway in the shadow of the thirteenth century bell tower, there is a place that will transport you to the wide open blue skies and country courtyards of Yunnan province in southwestern China. Hani Gejiu (哈尼个旧) is a new restaurant in the hutongs of Beijing, serving Yunnan cuisine inspired by the Hani minority and the area around Gejiu city. Partners Sue Zhou, Chinese-Dutch chef, and Wen Juan, of Hani heritage, work together to create a space and menu that specifically focuses on the southern part of Yunnan province.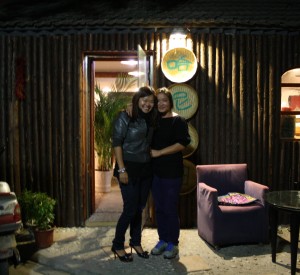 Sue Zhou and Wen Juan in front of their restaurant
Authentic dishes feature the signature goat cheese and aged ham of Yunnan, as well as noodle soups and tofu skin salads. You can also enjoy the many wonderful mushrooms of Yunnan province, from deep fried oyster mushrooms, to a flavorful appetizer of mushrooms cooked in the region's butter. Sue often tries out new, delicious dishes, such as peanut encrusted crispy fish. Choose between one of Yunnan's most famous products pu-er tea, which is an aged and heavily fermented tea, or the lighter, lesser known Hani mountain tea.
Yunnan ham and peppers accompanied by lightly pan-fried goat cheese
Seek out this quiet, cozy corner of Beijing for a true taste of Yunnan cuisine. Contact information can be found here; also read more about Sue Zhou and her cooking classes at the Hutong Kitchen here.