---
Our Travel Guides:

China in color, story, picture, and poem.
          
北京欢迎你!Beijjng welcomes you! Download our newest guide to explore from the Great Wall to the forbidden city and visit hidden drinking holes down obscure hutongs!
At China Tea Leaves, we believe in making a different kind of travel guide – seeking to share the culture, history and beauty of the middle kingdom via a new interactive experience for your mobile device. Any travel to China should not just be about the places you see, but the people you meet, the food you taste, and the culture you experience. We're just not like the other guides: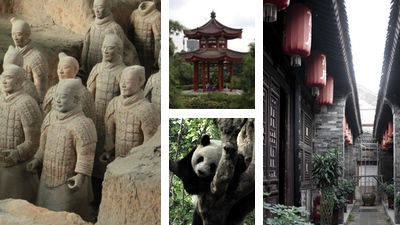 Pictures – lots of them. 很多照片. We like to take pictures when we travel. We also like to see where we're going. We think if you pay for a travel guide, you should be able to see where you're going too.

Flavour. Travel in China is not just about the places you see, but the people you meet. And of course, the food. Any trip to China is wasted if you don't experience the beauty of this 5,000 year old culture. We aim to help you appreciate the flavour of China through its culture, food, drink, poetry and history.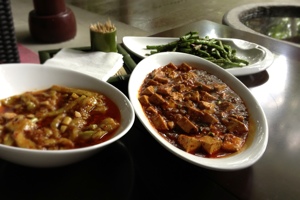 Local, but comfortable. We are expats living in China, originally from the United States. It is different here. But what can at first be scary, can later be beautiful. We won't take away the culture shock, but we will help the traveler recognise the beauty in it.
Appropriate depth. We focus in on the cities of China – our aim is not to provide an endless checklist, but to highlight the best sites, food, and culture we can for each region, based on personal experience. Please do explore more (and tell us about it!) – but let this guide be your picture into the heart of each region
Mementos. Each guide is also meant to be a keepsake of beautiful photos and memories. Use it when you travel, and let it help you remember your time in this beautiful land. Each guide includes interactive maps, hand-sketched drawings and professional photographs.
Interactive. From audio recordings of common Chinese words to maps that show images of the sites, each guide is designed to make full use of iBooks interactivity.
Each China Tea Leaves travel guide includes the following features:
Over 30 full-colour photographs
Hand sketched interactive maps that highlight pictures of each site. Beautiful and practical.
Food – restaurant recommendations and highlights of local dishes.
Drink – from tea to Chinese yellow wine, know the best of that locale
Chinese poetry specific to the region, in Chinese and English
Local legends and traditional folklore
Glossary – learn the Chinese words for each city and region
Chinese phrasebook – with audio pronunciation guide by a native speaker
Recommendations on local specialties – what to bring home to your family and friends

The China Tea Leaves website will continually be updated to provide additional insights and answer your questions on travel in China. We hope to eventually offer ongoing support to those who are traveling here, using our guides. Make sure to visit our blog.