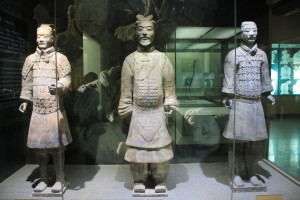 Researchers at the Mausoleum of Qin Shi Huang in Xi'an have announced the recent discovery of stone armor from the Qin dynasty, over 2,000 years ago. Qin Shi Huang was the first emperor of China under the Qin dynasty, and his mausoleum is the site of the famous Terra Cotta Warriors. Read more about the discovery and view a video here.
The Terra Cotta Warriors were discovered in 1974, just one part of Qin Shi Huang's tomb complex, which has been uncovered gradually over the past forty years. Archaeologists believe there may be as many as 6,000 of the life-size clay figures, but as of today only about 1,000 have been unearthed.
The armor is made up of square stone pieces, held together by bronze wire for flexibility. A distinct design was created for each rank of officer, with the finest and most flexible design worn by the generals. Pieces of flexible stone helmets and armor for horses were also found.
One model of armor was on display during our recent visit to the Mausoleum museum. Thousands of pieces of the stone armor will be excavated and reconstructed. Check back often for news about China Tea Leaves Xi'an, coming soon to iBooks!