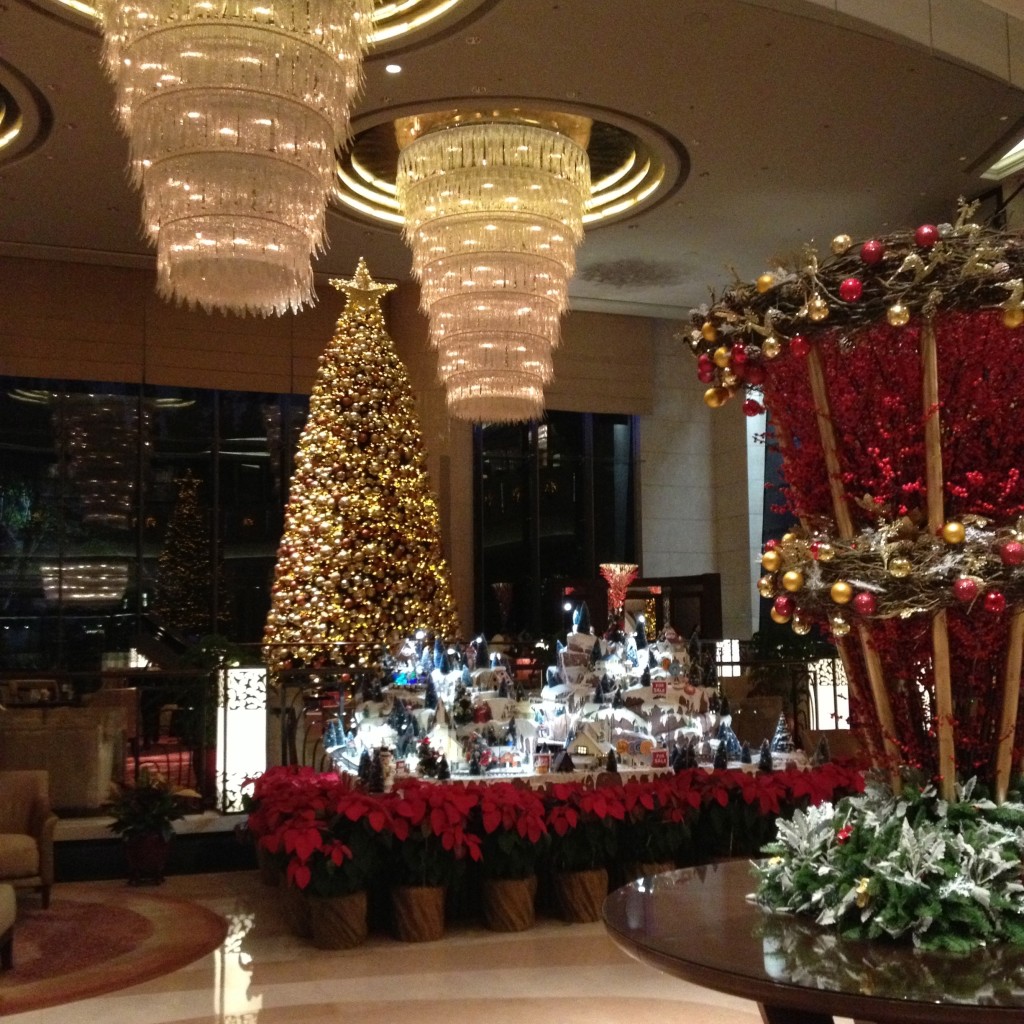 Our friends and family back home ask us, what's it like to spend Christmas in China? Do they celebrate Christmas there? The answer is yes! It is a bit of a novelty, a new custom compared to the big show a month later, Spring Festival or Chinese New Year. But even though many people don't exactly celebrate Christmas as we know it in America, the season is becoming more popular and widely enjoyed.
Here in ever-tropically green Shenzhen, many shops, hotels and plazas decorate for the December holiday, often with truly grand Christmas trees and beautiful displays. Department stores put out obligatory sections of Christmas decorations for the expat community in about mid-December, a somewhat welcome relief from the long onslaught of holiday sales and promotions stateside. The more whimsical shops or bars might decorate with a lifesize Santa Claus, usually playing the saxophone for whatever reason (because it's American, or cool, or romantic, or maybe because of Bill Clinton). Lobbies, restaurants and malls play a nonstop soundtrack of White Christmas, Let It Snow, and other familiar tunes, with an extra dose of irony and heart pang for us. The Chinese penchant for shopping is a constant, so the malls are always full. Thanksgiving and Black Friday don't exist to kick off the holiday season, though stores may feature a "Thanksgiving sale" in a nod to the Americans. (Though this year it seemed like China's Singles' Day – clubbing night for the unattached on 11/11 (all ones) – had a bit of Black Friday/Cyber Monday-flavour to it, promoting a particular wave of shopping frenzy.)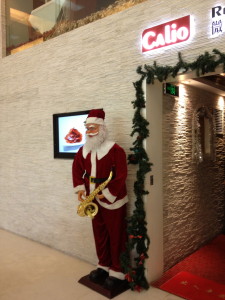 Families especially like to treat their children to holiday fun. Chocolates and toys line the shelves, as well as funny hats, reindeer antlers, princess wands and other less-traditional costumes. However, there's no sitting on Santa's lap—Santa Claus (圣诞老人 shengdan laoren – literally Christmas Elder) often comes in groups of young men in loose beards. The international hotels and cafes offer special Christmas sweets for some authentic Christmas edibles. We even found a couple of our family favorites – Italian panettone and German Mozart Kugeln.
Christmas Eve and Christmas Day are working days, so there is no national pause for official celebration. Come the 24th, people may get together for happy hour or a movie, or deliver a small gift to friends. A new tradition is to give a single apple, sometimes in a special box or decorated with a meaningful character, because the name for apple (苹果 ping guo) sounds like Christmas Eve (平安夜 ping'an ye, literally peaceful night). This is a new symbol of Christmas, impossible outside of China, at once touching, independent but still true to spirit, a creative assimilation of a Western feast into Chinese culture.
And so, while we miss the familiar immersion in Christmas movies, buttery cookies, and family, spending Christmas in China offers new traditions and symbols that make for a very happy holiday.