If you're an expat living in China, or are Chinese and want to travel to a foreign country, then chances are that you'll need to visit one of the foreign consulates at some point. Living in Shenzhen, that means making a trip to Guangzhou, the capital of Guangdong province, and usually the consulate closest to Shenzhen in Mainland China. Recently I needed to add pages to my American passport, so I too had to make this well-tread pilgrimage to the consulate of my home country.
The US Consulate in Guangzhou recently moved from its traditional location on Shamian Island to the CBD of Tianhe, where it is now found in a clean cut, granite and steel building designed by SOM Architects. Here it's a block away from modern icons like Guangzhou's tallest completed building, the International Finance Center, and Zaha Hadid's Opera House.
Thanks to some Chinese friends who recently made the trip for their American visas, I knew that security at the consulate is extraordinarily tight. No bags, nor cell phones, are allowed inside the consulate. The facility does provide phone-sized cubbies to leave your mobile in, but no true lockers for valuables. Because of these regulations, a cottage industry of Chinese women has grown up around the fronting street, where you can pay 30RMB for them to hold onto your things while you're inside for your appointment.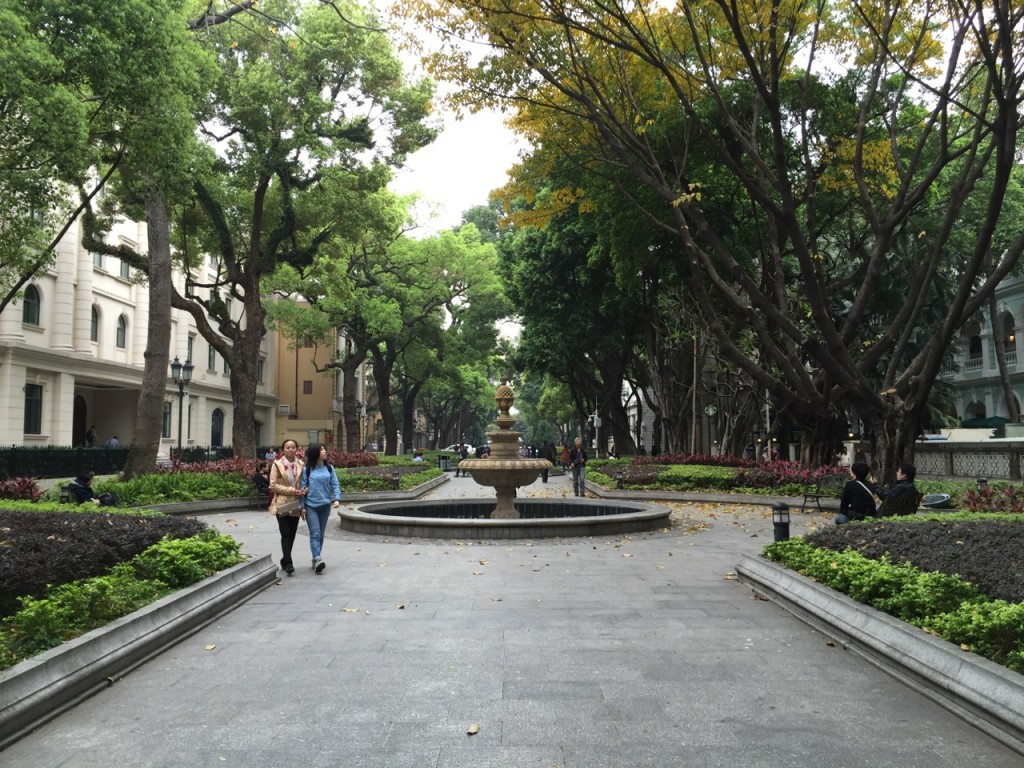 Not quite comfortable with this scenario, I decided to make more of this sojourn to Guangzhou. After securing my appointment online, I booked a one night stay at the Guangdong Victory Hotel on Shamian Island, the site of the French and British concessions in the nineteenth century, and later many consulates, foreign banks, and social clubs. This way I could arrive the night before, and leave my things safely in the hotel room while I was at the consulate the next morning.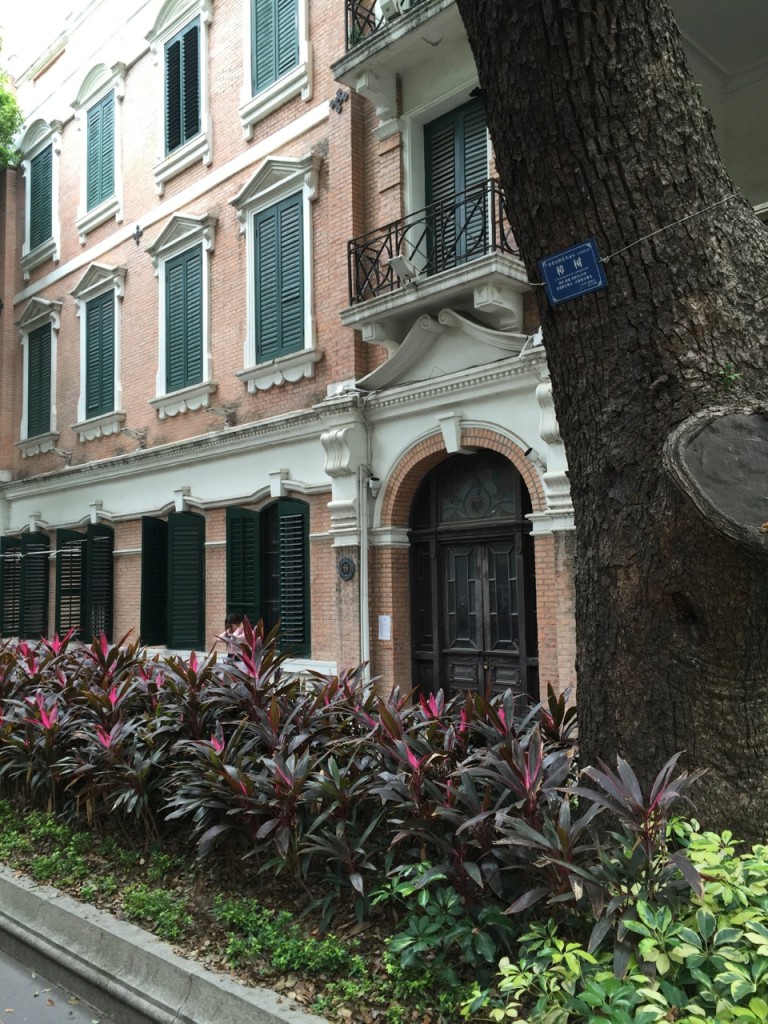 Shamian Island is a shaded strip of land along the Pearl River (珠江 Zhu Jiang), separated from the city by a narrow canal and connected by a few antique bridges. Its three main avenues are lined with banyan trees and stately, arcaded buildings of brick and stone. Most weekends these streets are filled with selfie taking girls and wedding photographers, but are very quiet during an weekday overnight stay. The Victory Hotel's name card had a map of the area, still including the site of the old American consulate. During the 90s, all US adoptions of Chinese children came through the Guangzhou consulate, so Shamian's hotels were frequent hosts of American couples taking their adopted children home for the first time.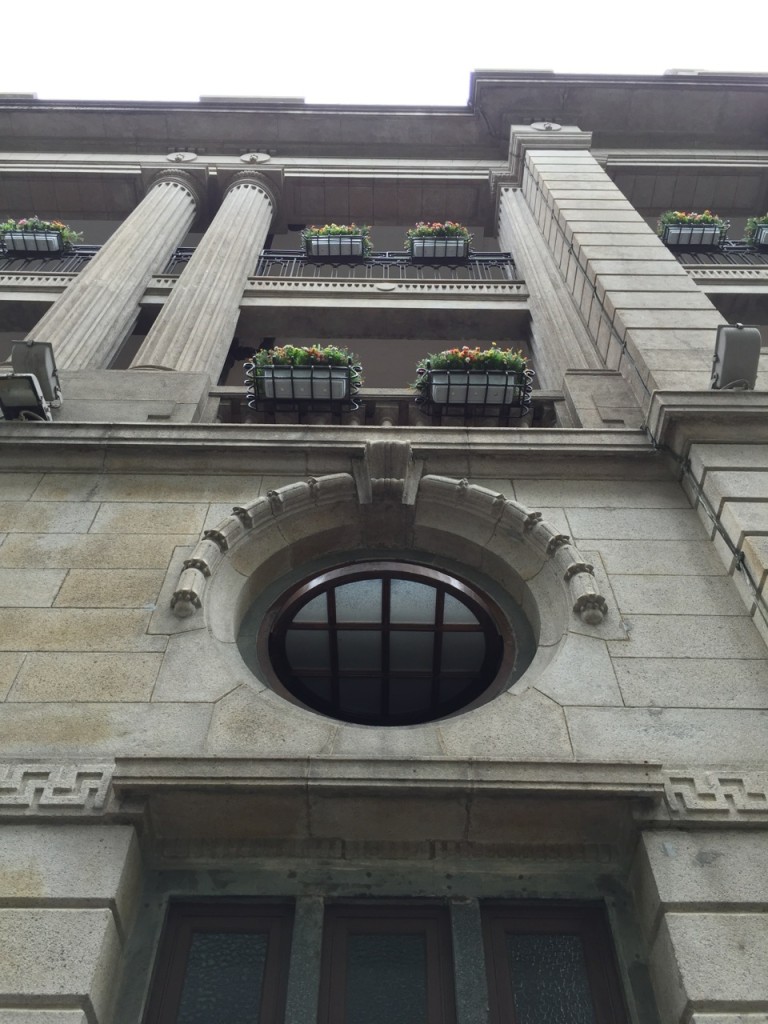 After checking in Sunday night, I took a stroll around the twilight streets, and dined at a vegetarian restaurant with flavorful Cantonese and Thai dishes. Next morning, I set out for the consulate with metro fare and my paperwork. The central avenue was warm and fresh in the South China dawn, with just one group of Chinese grannies dancing to some soaring anthem in the landscaped boulevard. I stopped for coffee in the Starbucks next to the west wing of the Victory Hotel, a fantastic place to enjoy a pastry and even pour over coffee in its bright open interior, or under the turquoise arcade overlooking the garden boulevard. It may have been both the most pleasant and least crowded Starbucks I have ever been to in China.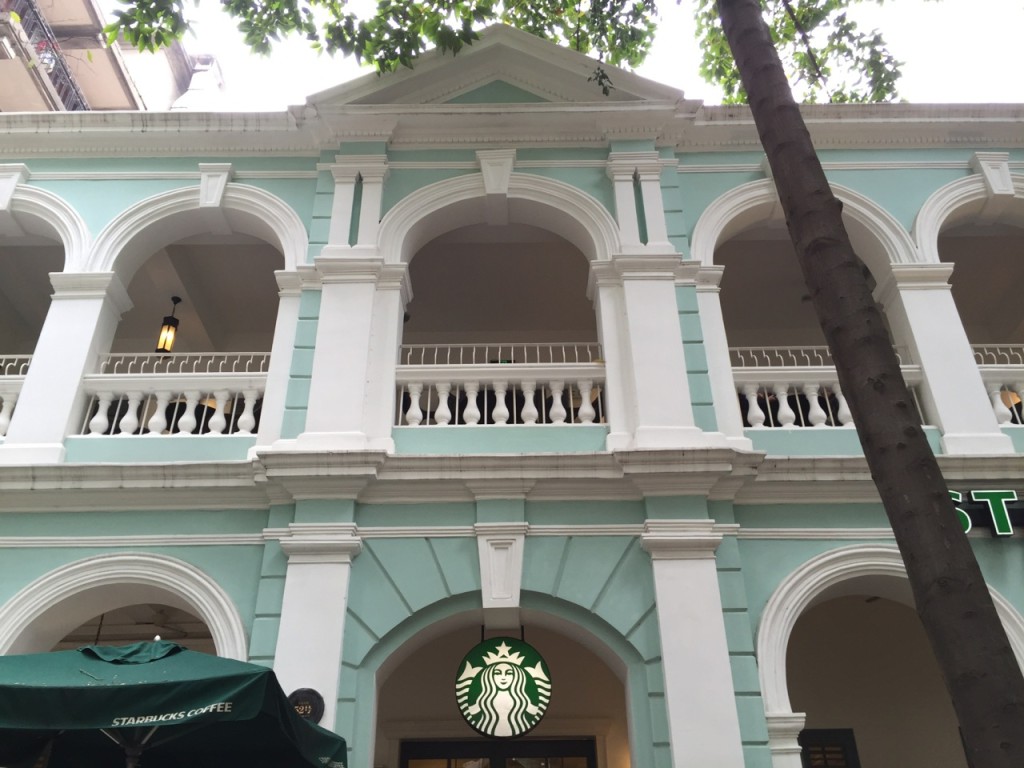 I arrived at the US consulate, where wielding my American passport led me to short security lines and the office for US citizen services. The huge, fully ADA compliant handicapped accessible bathroom certainly made me feel like I was back on American soil. After a short wait, my husband's and my passports were amended with dozens of blank pages, bearing the promise of many future travels.
Tips:
茶 How to get there: Guangzhou is a convenient 1hour 20min train ride from Shenzhen (go to Guangzhou East station from Shenzhen's main Luohu station). Shamian is located near Huangsha Metro Station (黄沙). Take the yellow Line 1 directly there from Guangzhou East station, or take a taxi to Shamian Island (沙面岛 sha mian dao), although taxi queues may be long at the station.
Go on a Sunday night, and if you score one of the earliest appointments on Monday, you could be back in Shenzhen by lunchtime or early afternoon Monday. Make your appointment online before you book your hotel.
茶 Guangzhou's first language is Cantonese (which I don't speak), but many people speak or at least understand some Mandarin. Of course English is spoken at the US consulate.
茶 Guangdong Victory Hotel has two wings—the west wing in the handsome former HSBC Bank, and the newer classical revival east wing two blocks to the east. If it's available, book the west wing for more historic surroundings.
茶 Take only your passport, the paperwork, and payment you need to the consulate. No cell phones allowed, but do wear a watch (like Vegas – no clocks inside) and take a small book or magazine with you.