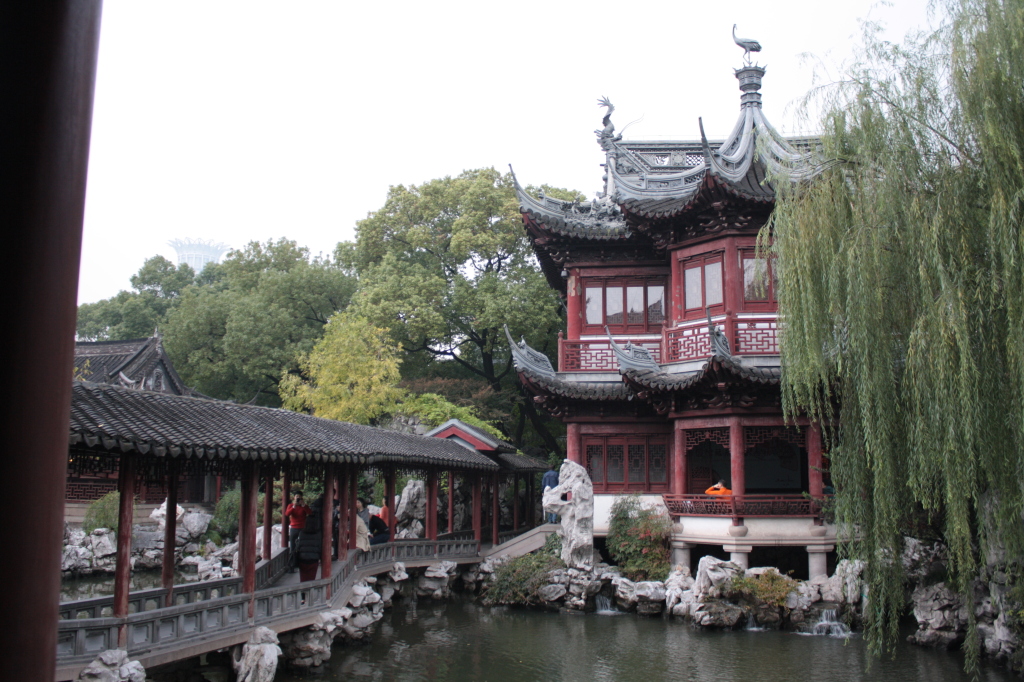 Shanghai, today the biggest city in the world, home to the tallest buildings in China, where flashy fashion statements of the skyline and sidewalk overwhelm you at every turn. And yet, in the middle of it all, is a diminutive garden, built by a humble son for his aging father.  And this garden, Yuyuan (豫园), the Garden of Contentment, is one of the most famous sights in Shanghai.
Enter through a round moon gate from the commercial streets surrounding the garden, and immediately feel transported to another world. Stones and foliage line hills and crevices in a miniature landscape. An undulating wall capped by a scaly dragon moves through the space. A pavilion across a pool is designed for taking in the moon and the "floating cup" game loved by the poets of yore, challenging one another to drink a bit of wine and compose a poem on the spot. Other pavilions were set up for the purpose of scholarly study, music and opera performances, or to frame the scenery and the many splendidly shaped rocks. Of all the artistic activity, perhaps your favorite pastime may be passing through the delicate arcades and discovering each new view of the garden as you go.
Autumn shades Shanghai crisp and colorful, a perfect time to get lost in a Chinese garden. Download China Tea Leaves 上海 Shanghai to find out more about the Yuyuan Garden, and plan an autumn trip to the wonderful parks and gardens of Shanghai.