Today, February 14th, is a very special day throughout China. Not only is it Valentine's Day (情人节 qingrenjie), it is also the Yuanxiao (元宵), the Lantern Festival and the fifteenth and final day of the Chinese New Year celebration.
Every year on the Lantern Festival, glowing lanterns are paraded about, and young and old take a walk under the full moon, two weeks after the new moon of the first day of the New Year. And as many Chinese fairy tale couples meet under the moon or amongst the stars, this day seems like a most natural alignment of festivals, east and west.
The Spinning Maid and the Cowherd are one famous couple of Chinese folklore, separated by a river of stars and united once a year by a bridge of magpies. Their reunion is celebrated at Qixi Festival in August, known as Chinese Valentine's Day. Another major holiday, Mid-Autumn Festival, falls on the full moon of the harvest season, and remembers Chang'e, the goddess of the moon, and her archer husband. Western Valentine's Day is celebrated in China too, now the most popular holiday for treating your sweetheart to something special.
So today and tonight throughout China, couples are strolling under red lanterns and the full moon, the last fireworks of the New Year popping overhead. Gifts of red roses and chocolates may be enjoyed alongside tangyuan (汤圆), the traditional sweet glutinous rice dumpling soup of the Lantern Festival.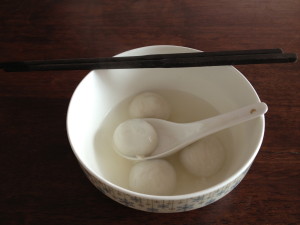 Here are some of the best places to feel the glow of Lantern Festival and celebrate love too.
In Hangzhou, see all kinds of lanterns in the street fairs, and remember the love story of Bai Suzhen and Xu Xian, with a bowl of tangyuan with your valentine on the banks of West Lake.
Shanghai's Yuyuan Garden is a perennial favorite for the festival, with its classic narrow streets strung with thousands of lanterns.
Visit Xi'an's Tang Paradise for impressive lanterns in the romantic Tang dynasty park, and see the sites of the real-life love legend between Emperor Xuanzong and Yang Guifei, and some of the oldest references to the Spinning Maid and the Cowherd. You can read more about these famous Chinese legends in China Tea Leaves 西安 Xi'an.
Some of these lantern festivals will be going on through the end of the month, so visit now to celebrate and enjoy the season!