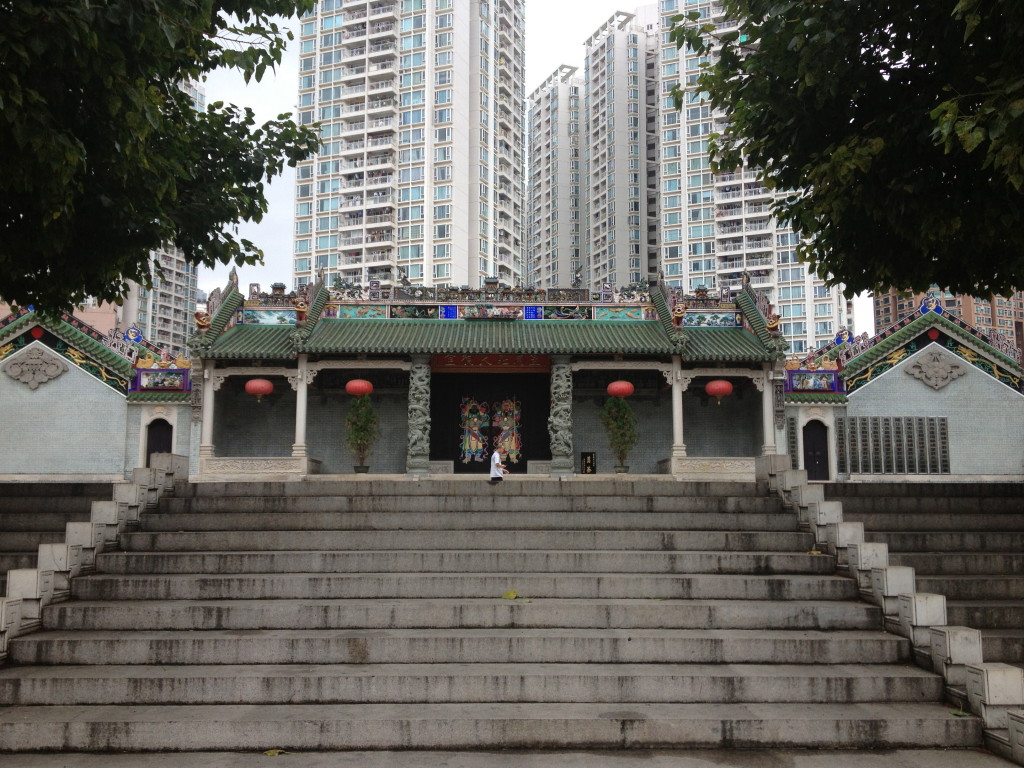 Living in Shenzhen, our daily life plays out in the modern apartment block, the shopping mall, the wide expressway. So much of this city is gleamingly new, still under scaffold and shrinkwrap.
But take a walk in any district and you can find a different side of the city, neighborhoods layered with the old, not as old, and changing all jumbled together, alive and teeming with the sounds and smells of village life. Some of these villages are more well known than others, such as the Nantou village in Nanshan. But every district, nearly every mammoth masterplanned block, today still contains these hidden worlds. As Shenzhen has grown since its revolutionary rebirth as a special economic zone in 1979, its borders have expanded to enclose previously existing communities and villages. Some were founded in the Qing dynasty (1644-1911), and some have connections to even older families and settlements. Wind your way into one of these villages and you'll be able to see the layers of Shenzhen's development, from traditional village, to the first wave of post-reform pioneers who came here in the 1980s, to the swaggering monuments to trade and wealth that are being constructed today. If you live in Shenzhen, check out these old streets before they get tilled under in the next wave of development and change. Tip: Apple's Maps on the iPad or Mac is actually quite helpful in locating these villages. Just look for any place labeled in tan as a "村" (cun), which means village.
Nantou (南头), the most well know of the villages inside Shenzhen proper, lies in the north part of Nanshan district. It is also the most recognizable as a traditional Chinese village, even retaining parts of its fortified wall built in 1394 and many fine officials' homes along the main axial streets. It was actually here in an official's courtyard that Hong Kong was signed over to the British as a treaty port at the close of the First Opium War. Today many of the buildings consist of a lower level or facade of original materials, with worn apartment flats rising up out of each block. Still, I find the haphazard streets and crowded shop stalls wonderfully charming, with sidewalks overflowing with myriad greens, explicit-looking cuts of meats,buckets and brooms and electrical fans, dogs wandering and kids playing basketball in their Shenzhen blues. Just outside of the south gate of the village, there is also a temple dedicated to Guandi (关帝庙 guandi miao). In a city with no landmark sacred places, it is incredibly transporting to enter the temple's court, wafting with incense and lined with Buddhas, Taoist gods and carved gilded wooden panels. Metro: Taoyuan or Daxin, 15 minutes walk north on Nanxin Lu to the South Gate, or take a cab directly to Nantou Ancient Town (南头古城 Nantou Gucheng).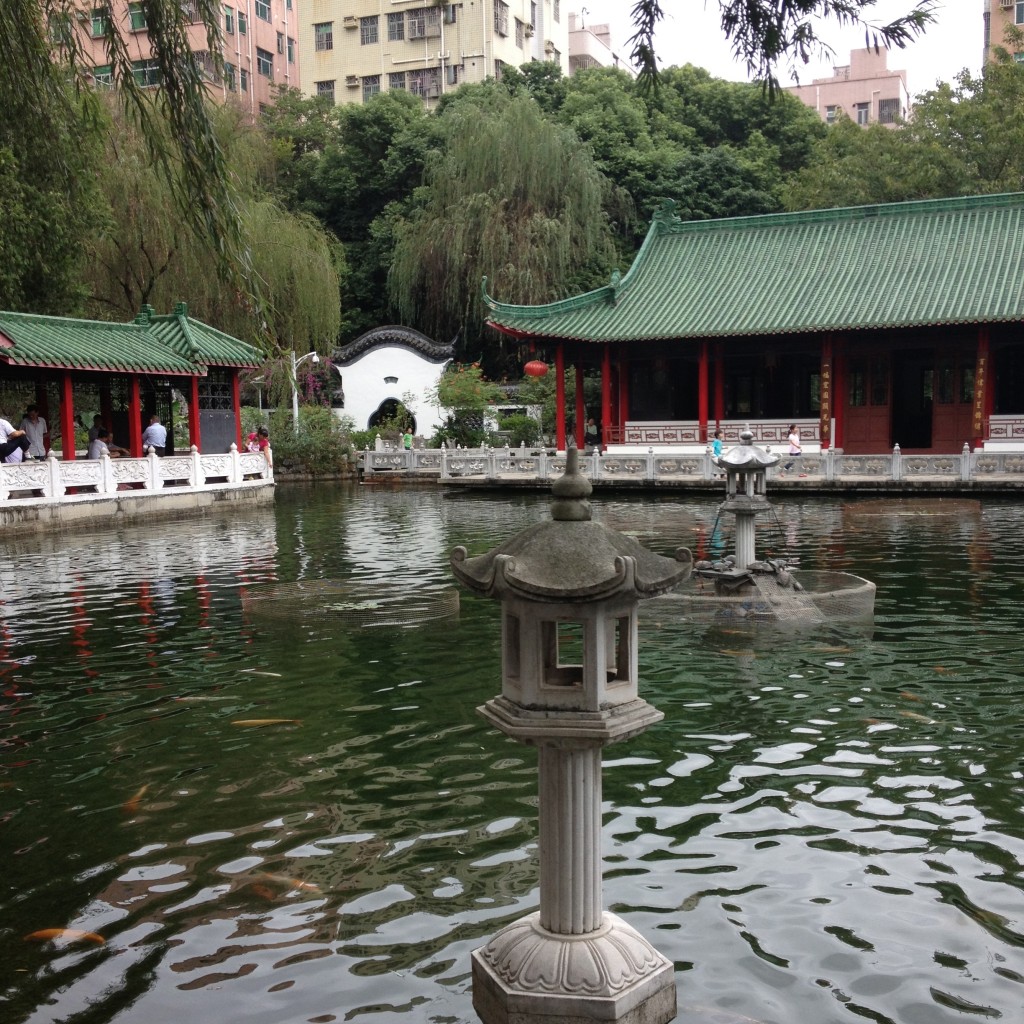 Another village recently rediscovered by China Tea Leaves is within a stone's thrown of some of Futian's sleekest towers. The Huanggang village (皇岗村 huanggang cun) lies just to the south of Binhe Dadao and the Convention and Exhibition Center and to the north of a more well known village, Shuiwei village, which is famous for its food street and KTV boxes. This secret world is just a fifteen minute walk from CocoPark. Much of the fabric of Huanggang consists of porcelain tiled towers laid out in a regular pattern with comfortable, clean streets crisscrossing like a chinese chess board. At its heart is a sweet park called Jinxiu Garden (锦绣园 jinxiu yuan or Brocade Brilliance Garden) which reminds the visitor of the great scenes of China's gardens, with a miniature lake and stone boat, three pools reflecting the lake's ripples, and a pagoda atop a stony hillock. Banyan trees and bamboo groves hide the towers of Futian, helping you to escape the workaday city outside. To the south of the park is a recently constructed temple, a local ancestral hall with fantastically carved (or probably cast stone) sculptural columns and panels and brilliantly colored beams under the deep eaves. Metro: either Shopping Park or Shixia, then head east on Binhe Dadao from Yitian Lu, turn right after the elementary school, left on Huanggang 3 Jie, then right again to get to the park and temple.
A recent jaunt to Nanshan discovered the Daxin Village (大新村 daxin cun). One would never imagine that beyond these boulevards southeast of the Daxin Metro station lie such twisting, lively streets. Here you can find wet markets, noodle stalls, and ancient buildings holding their own amongst the more recently built apartment blocks. In these streets you'll still hear Cantonese being spoken. Hanging laundry, electrical lines, and bas relief decoration on an ancient cornice collide in a most picturesque way. Billiards is apparently the pastime of choice, judging by the small plazas with several pool tables throughout the village. Metro: Daxin, then find the village by going all the way through the shopping center at exit D. Look for the monumental gate that reads "大新村" and turn left.
China Tea Leaves reminds you to be careful when exploring these villages, as you are more likely to run into live poultry vendors in these areas. H7N9 bird flu is still a problem in some areas of China (including Shenzhen), and although we don't fully know how it is transmitted to humans, some common sense tips should be followed when visiting the villages. Don't touch any birds or surfaces in contact with birds, and wash your hands before eating.