red maple leaves at hangzhou's west lake
Autumn is settling in to China's cities and countryside, a perfect time for travel throughout the country with mild weather, and nature quietly illuminating the mountains and valleys. Classical poems and song extoll the beauty of China's autumn. A poem (山行 Mountain Travel) from the eighth century of the Tang dynasty by Du Mu (杜牧) echoes our perennial love of an autumn scene.
远上寒山石径斜
白云生处有人家
停车坐爱枫林晚
霜叶红于二月花
Long ascent up Cold Mountain's rising stone road
White clouds harbor the people's homes
I stop the cart, pause to love the maple wood evening
The frosted leaves are redder than February blooms
Another phrase briefly says: 一叶知秋 One falling leaf signals the coming of autumn. For us in southern Shenzhen, the one falling leaf is about all we get of autumn. (一落叶就是深圳的秋天) If you miss the autumn colors like me, or are planning a trip to China this season, here are some places throughout the Middle Kingdom where you will be rewarded with the reds and yellows of an ancient poem.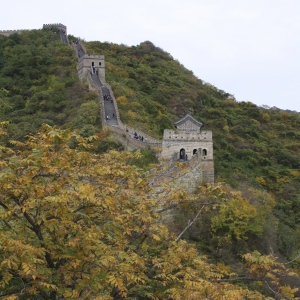 yellow leaves surrounding mutianyu great wall
From now until early December, cool weather and autumn foliage will be cascading down through the Middle Kingdom. Beijing's autumn (best from the last week of October to mid-November) is in full color right now, with lanes aglow in golden ginkgo, and mountains from the Great Wall to Fragrant Hill covered in smoky reds. Some of the best places to see the ginkgoes (银杏 yin xing) are Diaoyutai Boulevard, Peking University, Temple of the Earth, Sanlitun, and Tsinghua University.
Qingdao's maples are nearing their peak, and Laoshan on the rocky coast will soon be ablaze in crimson leaves. Shanghai and Hangzhou's peak arrive a bit later starting in late November, lasting into December. Other ideas for seeing leaves throughout China are here and here. Even southern Guangzhou offers Shimen Park, known as a local Fragrant Hill which turns red from October to January. Read more about these places throughout the year in China Tea Leaves for the iPad and Mac.